A case study on sustainable Ads growth
Growing an e-commerce business is no easy task. It's more than just picking a product, setting up a website and advertising. To make growth sustainable you have to first have a strategy and systems in place to support your growth. 
 This includes considering who your customers are, how you're going to reach them and what your logistical plan is. Having a good support system in place is a fundamental step in ensuring that your brand maintains a good reputation. Just as any small business has to support customer enquiries, complaints, returns and reviews, any successful e-commerce store has to ensure that they're omnipresent. Advertising is just one part of the puzzle here.
 As your store grows, you have to consider how your customers get in touch with you, what happens if you have to make a return, and how do you manage your customer relationships. There are a number of platforms that can manage this but the most important thing is getting back to them in a timely manner.
 With the proper support structure around you, there are almost no limits to your success online. Having an online store is like building a community, it takes time, patience and resilience to succeed. 
 It is important to have your automated email flows set up to thank people for their purchases for forms and campaigns and they are personalised to keep in touch with your customers. 
 When it comes to your social presence, using a mix of live and automated content is extremely helpful. Engaging regularly with your audience goes a long way to making them feel like a community.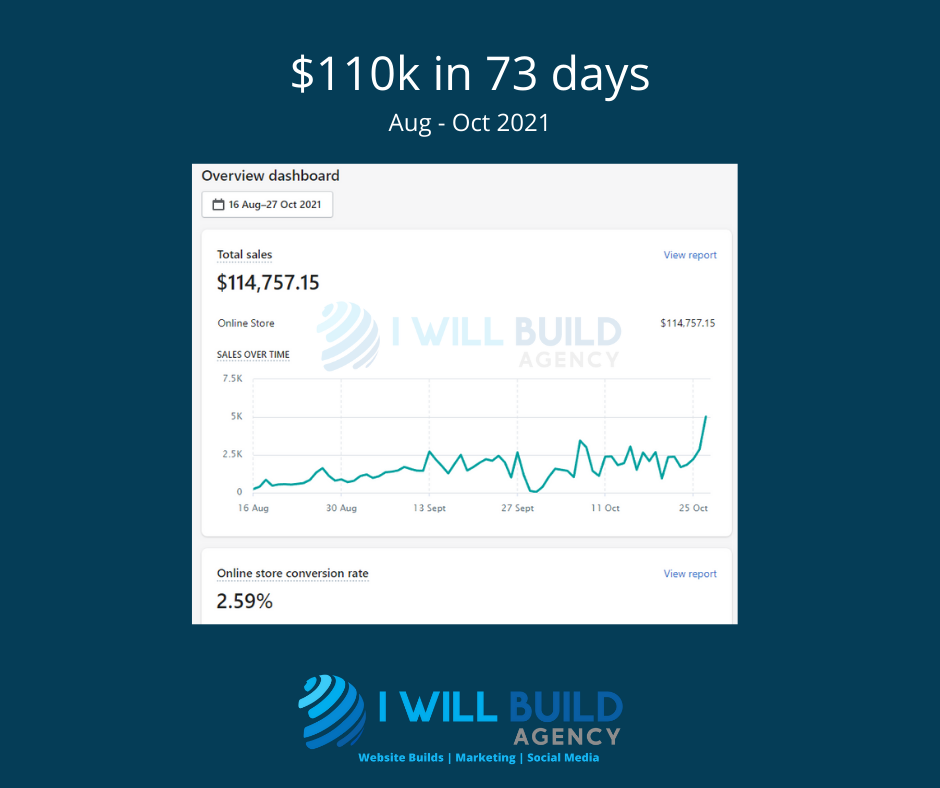 Social Media Presence 
For your Instagram and Facebook posts, we suggest setting up a Facebook Business account. This handy tool lets you post across Facebook and on Instagram at the same time. Using the Facebook Business Suite, you can manage your comments, messages, posts, ads and your Facebook & Instagram Stores. 
 Helping your community of dedicated return customers grow is vital to sustainable growth online. Working with our clients, we're able to create and foster engaged and loyal communities. 
 Posting about your business, giving regular product updates and offering loyal customers bonus discounts and advantages are all great ways you can help your business grow online. In this case, we used regular product updates and releases to build organic hype about the brand. By then pairing this audience with advertising targeting organic growth, we were able to create a highly engaged community of return customers. For this client, return customers make up to 20% of all weekly user visits. However, when we look at the revenue figures, these users consistently account for up to 50% of their weekly earnings.
New Customer Acquisition
With this in mind, you can't forget about new customer acquisition. This is where advertising comes in. Running Ads is a tricky balance between creating sales directed content and writing content that inspires people to learn more about your business. As tempting as it is to target ads towards sales, advertising is as much about telling your story as it is directing a customer to a sale. When you run ads you're trying to find the right approach for your audience at the right time. 
 At times, you're just going for a sales focus, at others you're focused on telling your story, at other times, it's a mix of both. There's no hard and fast rule when it comes to ads. You have to measure your successes and be prepared to lose. Without failing, you can't learn what to do better next time. By implementing a strict A/B testing regime, we're able to optimise our ads for any given audience. This gives us the greatest chance of success. 
 The key thing with ads is to be patient. It's unlikely to be an instant success. When we're growing a client's account we take a carefully measured approach to reaching their goals. By using what the data tells us, we're able to grow with a level of certainty.
How Did We Do It?
 So how did we take our client from 0 to $115K in 73 days? By taking our time to test our messages, strategy and audiences we were able to scale our advertising and spending rapidly. Taking a multichannel approach to advertising allows us to generate hype and convert on the customers intent. When we ran ads for this account, we targeted our audiences across Facebook, Instagram & Google. Implementing a number of retargeting and personalisation tactics allowed us to minimise shopping cart abandonment and target return visitors. 
Scaling
So what did we do to scale? Scaling is often confused with spending lots of money quickly to acquire customers and increase sales. The problem with doing this is it often tanks after a short amount of time. 
Our approach to scaling is different. We use data, insight, expertise and caution to scale our clients. When we scale, we monitor the data, test our results & scale incrementally to help our clients to achieve long term success. 
By taking this approach, we're able to deliver ongoing, repeatable results over the long term. Increasing spending gradually from a low budget means that when customers' results increase we're dealing with a much higher return on ad spend than some of our competitors. In the example given here, we've consistently seen an average ROAS of up to 6X.
While we're immensely proud of our ongoing successes, strong, engaging ads are only part of the plan. For our clients to succeed, it's crucial that they have an equally engaging website and user experience. 
Grow your e-commerce business with I Will Build Agency
 Thankfully, we're able to provide that also. We believe a full-service agency should truly be a complete service. By providing our clients with everything from website builds and optimisation to marketing, branding, social media management and customer relationship management, we are truly a full-service agency.
To find out how we can help your business, please contact our team and let's have a chat.